Ocean
City
Mako
Shark
Race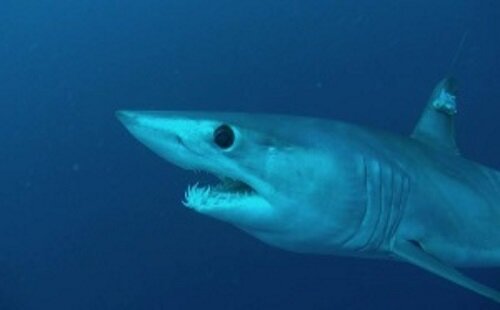 Isurus oxyrinchus
The shortfin mako shark, the fastest shark in the sea, is subject to intense commercial and recreational fishing pressure. This species is currently listed as 'Vulnerable to Extinction' by the IUCN.

Ocean City Mako Shark Race
Ocean City, Maryland
Starts: May 16, 2015
Tracks will be available online starting June 2, 2015.

Tags will be deployed as fishing allows. Whichever shark travels the greatest distance in six months wins!
| | | | | | | |
| --- | --- | --- | --- | --- | --- | --- |
| Tagging Date | Shark Name | Sponsor | Sex | TL | TL Feet | Shark Status |
| 5/15/2015 | Advanced Roofing | Advanced Roofing | F | 174 | 5.7 | Captured |
| 5/19/2015 | Grycon | Grycon | M | 125 | 4.1 | Live |
| 5/19/2015 | Divers Direct | Divers Direct | M | 127 | 4.2 | Live |
| 5/19/2015 | Bruce | Hidden Oaks Middle School | M | 172 | 5.6 | Live |
| 5/23/2015 | AFTCO 2 | AFTCO | M | 172 | 5.6 | Live |
| 5/24/2015 | Charlotte | Charlotte Latin / Finke Family | F | 138 | 4.5 | Live |
| 5/25/2015 | Hell's Bay | Hell's Bay Boatworks | M | 169 | 5.5 | Live |
| 5/26/2015 | Bregardo Primary | Virgin Unite / Bregardo Flax Primary | M | 177 | 5.8 | Live |
| 5/26/2015 | Ebenezer Primary | Virgin Unite / Ebenezer Thomas Primary | M | 219 | 7.2 | Live |
| 5/26/2015 | Eselyn Centre | Virgin Unite / Eselyn Henley Richez Learning Centre | M | 177 | 5.8 | Live |
| 5/31/2015 | Palmetto Moon | Palmetto Moon | M | 193 | 6.3 | Captured |
To view the 2015 Great Shark Race, click here and choose Project 17 - the 'Guy Harvey Great Shark Race'
Shortfin Mako Tracks